Facilities
Resort Facilities & Services
La Aranya Restaurant: This lovely restaurant by the beach offers the pleasant and relaxing ambience of the serene beach. Our experienced chef presents an international menu with a Thai twist, using only premium and fresh ingredients, refined techniques and served with a healthy dose of Thai hospitality. This is where you can savor every mouthful while relishing a tropical breeze carried on the ocean.
Swimming pool: our infinity-edge pool overlooking the ocean is the perfect spot for a sunset swim, guest can enjoy watching a magnificent sunset.
Pool bar: Sip your favorite cocktail by the pool when watching the sun go by. Our pool bar serves all kinds of drinks including tropical fruit juice, smoothies, cocktails, and etc.
Spa La Casa: Very few spa journeys can equal what guests are likely to experience at Spa La Casa, where comprises four treatment villas. If going to a spa means finding inner balance and true harmony, then this is definitely the place to be. Once you are in this haven of serenity, you will surely leave all of your troubles behind. Here exotic and indigenous herbs, gathered from the four corners of the orient, are delicately infused into a variety of exquisite treatments.
Excursion: If you look for something exciting, then come and explore with us. We can make it a tailor made excursion just for you. You may choose to do something different like buying food ingredients in the local markets for cooking your favorite menu and enjoying the dish you yourself cooked by the unspoiled river of Khao Lak. Or choose to have your private dinner in a yacht, cruising the Andaman while relishing the magnificent view of sunset.
Private Airport Transfer: Let us help make your trip as smooth as silk. Our Phuket airport transfer service is safe and can be trusted. We look forward to welcoming you the very moment you walk out of the airport.
Library and business center: If you love reading, you will love this cozy and lovely library, where you can spend all day enjoying good readings from around the world. Whether you love novels, art, or books about business, we have them all here.
In-room Services
Docking station : docking station is provide in every room and villa to male the in-room entertainment comprehensive. Now you can enjoy your favorite music in your room if you just have either i-phone or i-pod.
Complimentary mini-bar replenished daily: enjoy a full range of drinks in the mini-bar in every villa. The items include soft drinks, juice, beer, and mineral water, which are replenish daily.
A selection of pillows: Make you sleep a really quality one with the pillows of your choice. Choose your favorite pillows from a host of choices from anti snore, to white goose down, to contour, to a bolster.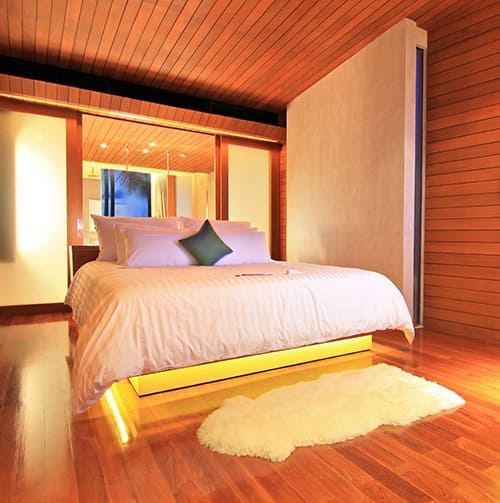 King-size bed: This ultra-big bed comes with 300 thread count comforter. We provide a king-size bed in every villa and suite to guarantee a quality sleep of our guests.
Evening turndown service: your day won't be fulfilled without this special service.
Espresso machine: welcome every morning with refreshing coffee you make by yourself. In each villa, coffee making machine along with coffee capsule by LAVAZZA is provided.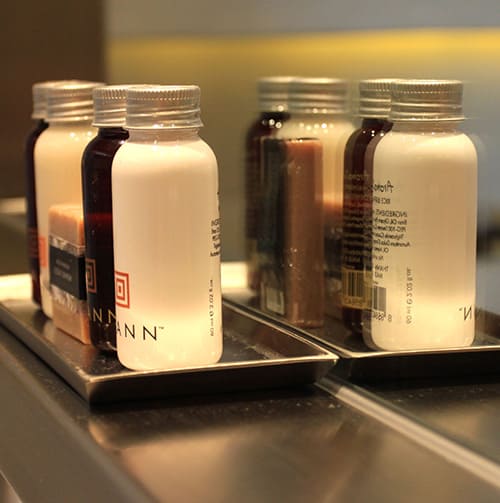 Bathroom amenities: we choose THANN for bathroom amenities in every room and villa. THANN is a range of natural hair and skincare products formulated from botanicals derived by combining the art of natural therapy with the modern dermatological science.
Wi-Fi internet access: High-speed Wireless Internet is accessible throughout the resort.